The latest version of the Circular Transition Indicators framework (CTI v3.0) by WBCSD helps companies assess their circular progress in a simple, transparent and comparable way. Developed with 30 companies, the framework provides insights that show how business can take action to reduce waste, increase resource efficiency and report on carbon emission reductions. The new version includes:
method for calculating reduced GHG emissions from circular practices
two new indicators for lifetime extension
best practices on taking action at scale.
User guide for advertisers
This new publication highlights 10 stereotypes that are often present in advertising, rooted in our unconscious, sometimes beneficial, sometimes harmful to the planet, in order to contribute to the evolution of our habits and the emergence of new lifestyles. These representations reflect common issues and so rely on existing referentials: food, transport, housing, travel, entertainment, ideas of happiness and success in life, relation to time and to nature. This guide sets forth proposals to make sustainable behaviours and lifestyles desirable, and illustrates them with best practices.
---
Entreprises pour l'Environnement (EpE), created in 1992, is a think-tank and platform for expertise gathering about 60 French and international large companies from all sectors of the economy, who work together to better integrate environment into both their strategies and their day-to-day management.
EpE provides its members with a forum for best-practice-sharing and debates within the business world itself, as well as with various stakeholders such as NGOs, policy-makers or academics.
---
Commissions and Working Groups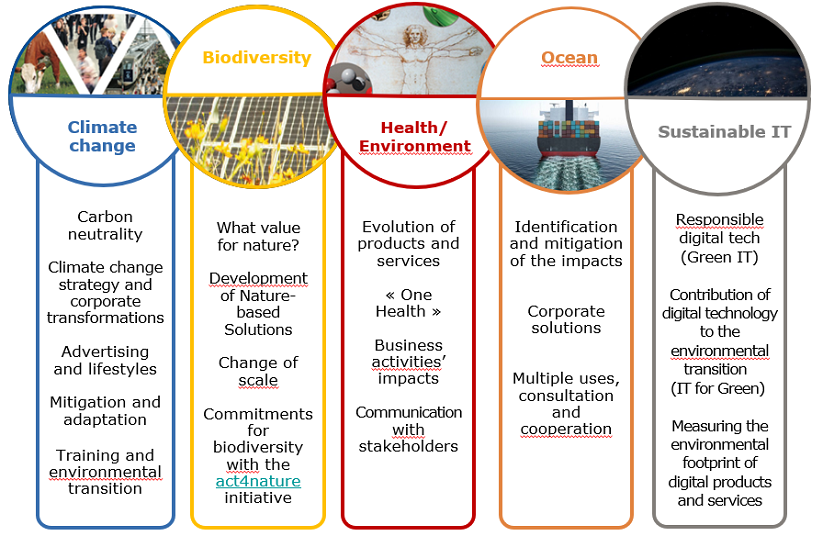 Recent Publications